May 16th, 2013
Meridian II Tour
June 21 - October 5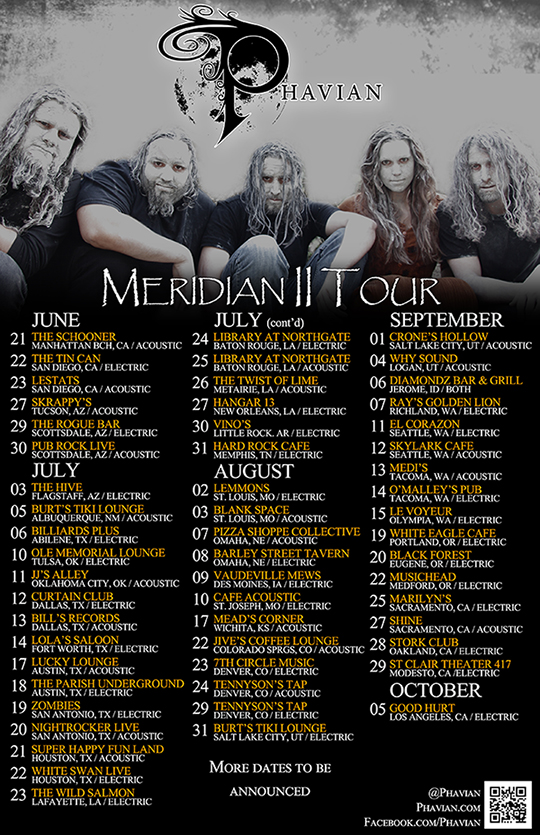 We've been promising big news for a while now, and today we're happy to finally announce it. We're hitting the road for 3 1/2 months in support of our latest album,
Meridian II
!
We're going to be playing in nearly every major city west of Memphis. But we're doing it a bit differently than most bands. As many of you know, Phavian has a split personality - Electric Phavian and Acoustic Phavian. To help make sure that all of you have the opportunity to see both sides, we're actually going to be playing
two
dates in most cities. One night will be acoustic. The other will be electric.
There's only one thing...
We Need Your Help!
We've always prided ourselves on our DIY ethos, but this tour is so large that we're asking you - our friends, fans, and family - to give us a helping hand. To make sure we can afford the $5,000 we're going to be spending on gas alone, we've set up an
IndieGoGo Campaign
to offer you a chance to help make sure we don't get stuck pushing the van across the country.
We could start listing
tons
of perks we are offering for anyone who is generous enough to donate, but it'll be much easier for you to just watch this video we made to explain the whole thing:
If you aren't in a position to donate financially, that is completely okay! We know you have a gas tank to fill as well, but
PLEASE
help spread the word. Every dollar helps, and the simple click of one of these buttons we've created might make the difference between us making it to the next gig or not.
Tell Your Friends
One Last Thing
Because this tour is so long, we are still confirming shows and will be announcing more dates in the upcoming months. If you don't see your city listed, that doesn't mean we aren't coming to you! We will probably be announcing it soon. So, you can either ask us and we'll let you know if we will be coming to your town, or you can always view our most up to date show listings on our website -
www.phavian.com/dates/