Browse Albums
Meridian I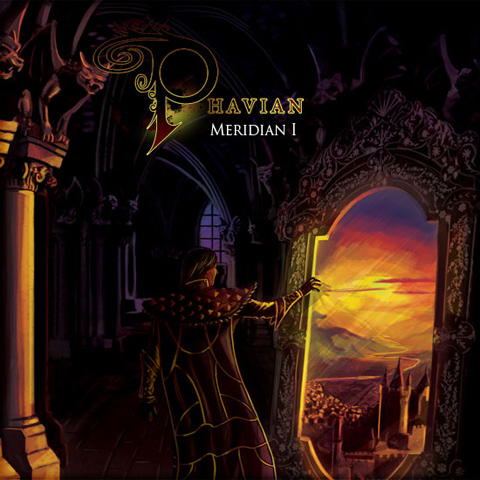 Tracklist
02
Cobalt and Crimson
08:14
Lyrics
Synopsis
Meridian I begins with a man sitting at the foot of his bed in the middle of the night, awakened by a troubling dream. The swirling colors of his dream are fresh in his mind as he tries to decipher their meaning. He sees his fate laid out before him. He will become a man of great power and influence. People will sing his praises, seek his counsel and follow his teachings. He will bring peace, happiness and tranquility to the world. Amidst these grand images however there are sharp moments of terrible pain. Try though he might he is unable to shake these thoughts and soon leaves on a journey to find his destiny.

He travels from town to town, sharing his visions of peace and happiness with everyone he meets. Wherever he goes people gather but even as the crowds grow he begins to notice a dark shape moving among the faces of followers. It weaves throughout the masses with ease, always focused only on him, and then vanishes.

Years pass, and the man notices disturbing changes in his followers. His speeches no longer draw huge crowds; people begin to argue with him, and each other, about his teachings. He can see disdain in the eyes of entire groups in the crowds, and always, dark shapes on their faces and behind their eyes. Mustering all his courage, our protagonist retells his visions peace and tranquility again and again but to less and less effect.

Discontent swells in the populous; the people see the man and his followers as empty, mindless masses. Rebelling groups storm the man's stronghold, and even his own followers turn against him. He is able to escape in the chaos but his kingdom of peace and happiness lies in ruins. Defeated, he retreats into the darkness....
Credits
Elizabeth Matson - Vocals & Keys
Puyan Hassani - Guitars
Jason Lobell - Bass
Patrick Hassani - Drums & Keys

Additional Musicians:
Omeed Izadyar - Guitars (On all tracks except Obsidian)
Gavin McGuire - Vocals (Cobalt and Crimson, Tyrian)

Produced by Phavian
Engineered by Charlie Park and Nicholas Zagorin
Mixed by Assen Stoyanov
Mastered by Fergal Davis at Summit Studios, Dublin

Artwork by Matthew Hill
Reviews

"...truly interesting metal sounds for your listening enjoyment..." -
Sonic Cathedral

"...an intense listening experience..." -
Ravenheart Music

"...a well worked release that has a lot to discover both musically and lyrically..." -
Behind The Veil
"...a provocative, organic sound." -
CB Space